---
CHRISTIAN GRICE LARSEN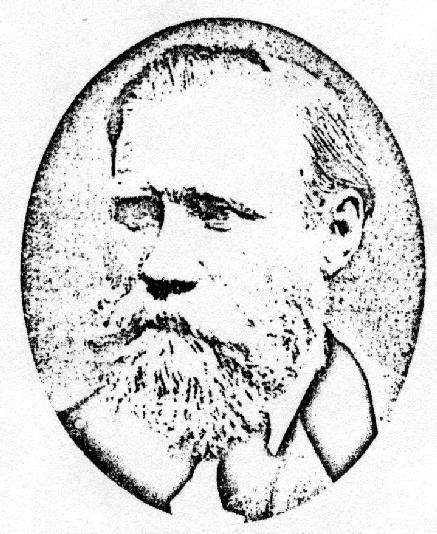 Biography of Christian Grice Larsen who was born the 17th day of December
1828 in Grejs, Vejle Arnt. , Denmark.  He was the third son of Lars Johansen
and Anna Margretha Sorensen.  While in the military service of the king of
Denmark as a drafted soldier he became converted to Mormonism. He was baptized
by Elder Andreas Aagren March 15, 1851 and was confirmed by Erastus S. Snow.
When Christian heard of the Elder's preaching a new doctrine, he said, "I'll go to
meeting and show them we don't want any of their doctrines. " But he was soon
converted.  In September of 1851 he was ordained a priest and appointed to preach
the Gospel to his military comrades.  In December of 1852, the term of his
military service having expired, he was called to preside over the Bornholm
Conference.  On his 24th anniversary of his birth, he was ordained an elder under
the hands of Willard Snow, John Forsegren, and Hans P. Jensen.  Complying with
his missionary call, he proceeded to the Island of Bornholm where he now devoted
some of the best years of his life as a zealous and successful laborer in that part of
the Lord's vineyard.  The little flock of Saints on the island grew rapidly in numbers
under his administration and many of his converts became active and prominent
members of the Church. After five years of missionary work he received an
honorable release and permission to emigrate to Zion in the spring of 1857.
He crossed the Atlantic Ocean on the ship West Moreland, sailing from Liverpool
on April 25th.  There were 544 Saints on board, mostly Scandinavians.  They were
under the supervision of Mathias F. Cowley.  The Saints were divided into four
companies under the supervision of Elders George W. Thurston, Lorenzo D. Rudd,
Christian G. Larsen, and Carl C.M. Dorius.  The discipline was very strict.  The
Saints went to bed between nine and ten o'clock and arose about five in the morning
and had prayers.  On Sundays they had fasting and preaching.  Schools were organized
to teach the people to speak English.  A musical company was formed and they danced
and had socials.  The voyage lasted 36 days.  The company arrived in Philadelphia,
Pennsylvania on May 31, 1857.  They were received by Elder Angus M. Cannon.
He made the necessary arrangements for their journey through the states, and on
the 2nd of June they continued by rail from Philadelphia via Baltimore and wheeling.
They arrived safely in Iowa City, Iowa on July 9, 1857. ("Thus on the wind-swept,
sun-baked, and dark with bitter rain, the prairies lay before them as they crossed
the unmapped loam.  Beautiful and desolate, a silent fateful plain, holding somewhere
in it's heart the precious thing called home. ") On his arrival in Utah, he spent some
time in Weber County, and one of his brothers located where Logan is today.
Christian G. with three other brothers and two sisters went to Ephraim, Sanpete
County.  He labored as Ward Teacher and took active part in all local affairs.
He had been taught the value of work and thrift in his native land, and now he, with
the people in that section, toiled to wrest a livelihood from their surroundings.
Among other things which he did; he took the cows -- his and others' of the settlement
to feed for the day.  He bought a horse which was so poor he couldn't ride it, so he
let it walk among the cows.  The only tool he had was a scythe which he used to cut
wild hay for feed.  Also he used the wild hay to trade for whatever he could get.  One
day a large man asked to borrow the scythe.  He broke it.  In relating the story later,
he said he sat down and cried as the loss meant a lot to him. In the winter of 1859
and 1860 he was called to be Bishop of the Spring City Ward.  He was the first
ordained Bishop in Spring City.  He moved his family to that settlement.  He
realized the responsibility of that position and was grateful for his missionary
experience and also for the training his parents had given him.  By his keen
insight and hard work, he soon had a comfortable place to live.  The saying, "The
Lord helps those who help themselves" was indeed true of the Saints in the early
days.  One of the first things Christian G. must have done was to plant plum and
apple trees.  He lived the plural law, having married three other wives at the time
of his first marriage in April 1864, in the Salt Lake Endowment House.  The family
made their lye soap, candles, etc. and took wool from the sheep and made it into
clothing.  The big loom must have been fascinating as the big shuttle went back and
forth.  There was the big spinning wheel and two small ones you run with your foot.
His wife used to card batts into fine rolls to spin the yarn.  Parley will always
remember the spindle in the big wheel which he ran through his shoulder while he
was playing at the home of Elizabeth Hyde, a very dear friend, where his mother was
visiting.  Christian G.  served all through the Black Hawk War, but never received
one dollar pension.  One morning they found moccasin tracks all around the stable,
but the door was locked and the horses were safe.  He made several trips to Salt
Lake City with produce and grain, at the time they paid $1. 00 for a spool of thread
and $2.00 for a pound of sugar, and so on.  He was very particular in his buying
as he said it paid to buy the best.  Later he brought home material of blue and black
plaid mohair and lovely black silk dresses.  Of course this was for his wives.  He
served as Bishop for eight years.  In 1873 he was called on a special mission to
Europe to succeed Elder Kanute Peterson of Ephraim in the presidency of the
Scandinavian Mission.  He presided there for two years and in 1875 returned home
in charge of a large company of emigrating Saints.  While he was on this mission,
his daughter Zina got scarlet fever and died.  In July of 1880, Francis M. Lyman,
Erastus S. Snow, Orange Seely of Mt. Pleasant, and Christian G. made a trip to
Castle Valley.  When they returned he received a call to go and settle that dreary
desert and to preside over the Saints who settled in that valley.  This must have been
when his real pioneering began. He received his call in the middle of August and by
the first of October he had arranged his affairs and was ready to go.  He took his
second wife Anna, who had no children (having lost her little daughter with scarlet . .
fever), and three sons; Christian, Parley, and Joseph.  Three other men volunteered
to go with him on this trip.  They were  Rasmus Justisen, Charles Thompson, and
Henry Acord.  Two of these men later became his sons-in-law. When they reached
Fairview Canyon they found two feet of snow and it was still snowing.  There was
no road and it was very difficult to travel.  They decided to camp until it stopped
snowing.  Finally they were able to go on, but the wagon box dragged on the snow
and it was slow and disagreeable.  They met an Indian who directed them and they
finally reached what was called "Horse Shoe".  There they unloaded part of their
wagon; windows, shingles, etc.  that could be left.  Two boys drove two cows.
The trip took six days when it should have only taken three.  They ran short of feed
for the animals, but the horses ate two brooms.  When they finally reached the valley
there was no sign of snow, but they encountered a severe wind and sand storm,, which
nearly blinded them.  This was another extreme.  They camped south of what was
later called Castle Dale, county seat of Emery County.  There were two families
and one man camped on the creek.  Christian G. had no tent but he got the use of
a small dugout in which they put 800 lbs. of flour in one corner, a bed in another
corner, then the stove and table; neither were very large.  The rest of their supplies
were left in the wagons. The manner of entering this abode was rather unique.
They went in from the top on some sort of ladder and the last one in was the first
to go out.  They didn't stay here long however, but took the first steps in laying
out a town site.  Some difficulty was encountered at first in securing title to the land.
A man by the name of Fairbush was there to speculate on land, but the presiding
brethren knew the people could not pay much for land, so they hired a man by the
name of George Bruno to race horse-back to the land office in Salt Lake City in an
attempt to file on the land first.  This plan succeeded and Fairbush had to leave.
Christian G. bought three dugouts from Mr. Fairbush.  They had a fireplace and
windows on the south, and when lined overhead with factory burlap were quite clean
and comfortable.  Of course there were dirt floors.  Castle Valley was organized
into Emery Stake.  Town sites were laid out in blocks and the people began to build
homes. In Castle Dale the first building finished was a school house used also for
church.  Christian G. brought his families from Spring City as soon as he could
prepare homes for them, and on these visits from Castle Valley the band and
neighbors would welcome him back.  It was the memory of these happy hours that
cheered him on his way back in helping to settle a new valley. As soon as possible,
fruit trees were set out and water was brought into the town.  He brought the first
bushel of plums covered with a white napkin to Sunday School in the old bowery to
treat the children.  From 1880 to 1899 he presided over Emery Stake, traveling a
territory which at the time comprises five stakes; Emery, San Juan, Platte, and
Lyman, and lies in three states - Utah, Colorado, and New Mexico. Upon his
release he was ordained a Patriarch.  He had the privilege of taking his wives to
the temple to have their second endowments.  The following quotation is taken from
the church records in speaking of him.  "He was one of the most talented and
successful missionaries which the Scandinavian Mission produced.  He was ranked
high as a public speaker.  His sermons were delivered with earnestness which made
a deep and lasting impression. His indomitable willpower and a keen sense of
justice made him a true type of Scandinavian whose friendship is true and abiding as
the everlasting hills; and whose enmity, if aroused, is correspondingly strong.
President C. G. Larsen, along with his brothers John, Soren, Christian C. and
Lauritz, who have become widely known throughout the Church, will never be
forgotten by the Saints of God.  Commencing their careers as L.D.S. missionaries
in their native land when they were boys, they have stood up manfully and fearlessly
for truth and right and have never flinched from duty and responsibility. "  Christian
G. had seven brothers and sisters; they are - Soren Larsen, Johannes Larsen,
Sesel Kjesten Larsen, Christian J. Larsen, Lauritz Larsen, Mary Larsen Willardsen,
and Christena Larsen Black.  He also had five wives and twenty-two children.

---
WIVES & CHILDREN
Karen (Caroline) Marie (Maria) SORENSEN (md. 1857)
     Annine Marie LARSEN (1859 - 1942)
     Christian Grice LARSEN, jr. (1861 - 1909)
     Hannah Margaret LARSEN (1863 - 1940)
     Samuel Henry LARSEN (1865 - 1956)
     Joseph Smith LARSEN (1868 - 1919)
     Orson Albert LARSEN (1870 - 1962)
     Franklin Peter LARSEN (1872 - 1964)
     George Washington LARSEN (1877 - 1877)
     Erastus Snow LARSEN (1878 - 1959)
     Luella Minerva LARSEN (1880 - 1963)
     Edna Elnora LARSEN (1883 - 1939)
Anne (Anna) Maria (Marie) CHRISTENSEN (md. 1860)
     Anna Maria LARSEN (1861 - ?)
     Anna Christina LARSEN (1863 - 1907)
Anna Olsen UNGERMAND (md. 1863)
     Eliza LARSEN (1865 - ?)
Anna JONSSON (md. 1864)
     John Parley LARSEN (1865 - 1948)
     Daniel Oscar LARSEN (1867 - 1921)
     Mary Amelia LARSEN (1869 - 1924)
     Zina LARSEN (1871 - 1873)
     Sarah Olive LARSEN (1877 - 1966)
     George Albert LARSEN (1878 - 1888)
Caroline Ann OLSEN (md. 1876)
     Hyrum Smith LARSEN (1876 - 1930)
     Emery Christian LARSEN (1880 - 1958)

---
1880 CENSUS
NAME
RELATION
MARITAL STATUS
GENDER
RACE
AGE
BIRTHPLACE
OCCUPATION
FATHER'S BIRTHPLACE
MOTHER'S BIRTHPLACE
Christian G. LARSEN
Self
M
Male
W
51
DEN
Farmer
DEN
DEN
Caroline M. LARSEN
Wife
M
Female
W
41
DEN
Keeping House
DEN
DEN
Anna C. LARSEN
Dau
S
Female
W
18
Utah
At Home
DEN
DEN
Christian G. LARSEN
Son
S
Male
W
19
Utah
Works On Farm
DEN
DEN
Anna M. LARSEN
Dau
S
Female
W
17
Utah
At Home
DEN
DEN
Hannah M. LARSEN
Dau
S
Female
W
16
Utah
At Home
DEN
DEN
Samuel H. LARSEN
Son
S
Male
W
14
Utah
At School
DEN
DEN
Joseph S. LARSEN
Son
S
Male
W
12
Utah
At School
DEN
DEN
Orson A. LARSEN
Son
S
Male
W
9
Utah
DEN
DEN
Peter F. LARSEN
Son
S
Male
W
8
Utah
DEN
DEN
Erastus S. LARSEN
Son
S
Male
W
1
Utah
DEN
DEN
Anna UNGERMAN
Other
M
Female
W
47
DEN
DEN
DEN
Census Place: Spring, Sanpete, Utah
Family History Library Film: 1255338
NA Film Numbr: T9-1338
Page Number: 433B

---
LINKS
Return to Larsen Home Page:
Go to Larsen History Index:
History of Bornholm Branch:
Christian John Larsen History:
Lauritz Larsen History:
Maren (Mary) Larsen Black Willardsen History:
Go to Imigration Page:
Go to Pioneer Page:

---