TITENSOR FAMILY








Thomas Titensor




---






Sarah Robbins Titensor




---






George Robbins




---






Susannah Sutton Robbins






---



HISTORY OF THE TITENSOR NAME



The name Titensor is a shortened form of the name Tittensor. In
Staffordshire County, England there are at least three places
that bear this name: Tittensor, Tittensor Commons and Tittensor
Chase.  The phone book for that part of Staffordshire has over
twenty listings for Tittensor families.  Tittensor is about five
miles south of Stoke-on-Trent and Tittensor Commons is about a
mile farther south.  A chase was originally a tract of unenclosed
land reserved for breeding and hunting wild animals.  Tittensor
Chase today is a very well wooded parkland.  The whole Tittensor
Chase area was owned by the Duke of Sutherland until the 1920's
when most of it was sold.  The large house in the Chase was for
many years thereafter owned by the Copeland family, very "well
known" pottery manufacturers in Stoke-on-Trent. They then moved
to a smaller property nearby in the Chase to a house also known
as 'Tittensor Chase".
So the name, Tittensor, is very much alive in England.  But where
did the name come from?  It is derived from the words 'Titten's
ofer".   The Anglo Saxon word "ofer" means a slope, and Titten is
thought to be the diminutive form of some Anglo Saxon name like
Tidfrithe.  Thus, the word Tittensor means something like
'Tidfrithe's slope".  And thus we conclude that the Tittensors
are of Anglo Saxon origin.
And who are the Anglo Saxons? Three Germanic peoples, the
Angles, the Saxons and the Jutes, entered and conquered England
in the fifth century A.D. and merged to form a people called the
Anglo Saxons.  It is interesting to note that at the back of
Tittensor Chase, toward the village of Swynnerton is a Saxon
burial ground known as Saxon's Lowe.  There is also a clearly
defined Iron Age hill fort, known today as Bury Bank, just south
of Tittensor.
Staffordshire has existed as a county for over 1000 years and the
area of Staffordshire now called Tittensor is referenced in the
Doomsday Book as Titesoure. The Doomsday Book is a book of
records containing a survey of the lands of England, their
extent, value, ownership and liabilities, made by order of
William the Conqueror in 1086.  In the Staffordshire section of
this book is an entry that reads:

The land of Robert de Stafford in Pereolle hundred: The
same R holds 3 h in Titesoure and Stenulf of him.  Ulviet
and Godric held it and they were free.  There is land for
3 ploughs.   In demesne is 1 /2 plough: and 8 villeins and
bordars and 1 serf with 1 1/2 plough.  There 4 a of
meadow, and a mill rendering 8d.  Wood 6 furlongs in
length and as much in breadth.   It is worth 30s.

It is not clear what this entry means in its entirety, but some
clarification is possible.  A hundred is a major expanse of land.
Staffordshire was made up of five of these hundreds: Pirehill.
Totmonslow. Cuttlestone, Offlow and Seisdon.  In 1086, the
hundred of Pirehill was known as Pereolle.  So. the land owned by
Robert of Stafford was located in the section of Staffordshire
known as the hundred of Pereolle (Pirehill).
A hundred consisted of 100 hides, a hide being a measure of land
equal to the amount of land required by one free family and its
servants: it was defined as being as much land as could be tilled
with one plough in a year.  A hide was normally equal to 100
acres.  Thus, this same R(obert) owned 3 h(ides) (about 300
acres) in Titesoure (now Tittensor).
The references to Stenulf,  Ulviet and Godric is not clear, but it
seems that they were free men able to hold (own?) property.  This
property was apparently previously held by Ulviet and Godric. but
in 1086 it was held by Robert.  Perhaps Stenulf was in the
process of buying part or all of these 3 hides from Robert.
'There is land for three ploughs' jibes with the definition of a
hide,  one plough per hide.  But all of the land may not have been
tillable.   The term "demesne" refers to the land actually
occupied by the lord and not by tenants. "In demesne is 1/2
plough" therefore would indicate that Robert occupied about 50
acres of land.  An additional 150 acres were the responsibility
of 8 villeins and bordars and 1 serf.  Villeins were the largest
and highest class of unfree tenants at that time.  A bordar was a
cottager, a person that rendered menial service in exchange for a
cottage, and slightly lower down the scale than a villein.  And
serfs were rock bottom: typically, they were regarded as
"attached to the soil".  But serfs were not slaves: they were
able to possess (not own) land and they were transferred with the
land when it passed to another owner.  All three classes
(villeins, bordars and serfs) would be called on by the lord of
the manor for service, either on a regular two or three days a
week basis or at special times like harvest time.
And then there was a flour mill. probably operated by one of the
feudal tenants, that yielded an income to Robert of 8 pence.  It
does not say whether that was 8 pence a day or 8 pence a year or
something in between.  Since a furlong is an eighth of a mile.
the woodland portion of Roberts property was about 3/4 of a mile
square.  And the total recorded value of the holdings of Robert
of Stafford in Tittensor was 30 shillings, a pound and a half.
It is likely that the ancestors  of our Titensors  came from this
part of England.  Are we,  perhaps, descendants of Robert of
Stafford, or of Stenulf. Ulviet or Godric. or of a villein.
bordar or serf?  Perhaps during the millennium we will be able to
answer that question.

This material was prepared by  Steven Jamison based largely on material sent to Mrs.
Laura Tittensor in  1971  by  Peter J.  Berrisford,  Public  Relations  Officer for
Staffordshire  County.


---





THOMAS E. TITENSOR and SARAH ROBBINS



Brigham Young, the great leader and empire builder, planned with
wisdom and inspiration when he colonized the land to which he had
led his people.  His method is well known.  From among the
stalwart pioneers, he chose individuals and groups and sent them
out in every direction to build up communities.  The men chosen
were staunch Latter Day Saints' capable leaders and key men in
their chosen fields of occupation.  They were set apart for their
callings.  They worked diligently and well at the task of laying
cornerstones of the settlements that they,  and those who came
later, built.
Two of these early pioneers sent out by Brigham Young to help
colonize Northern Utah in Cache Valley were Thomas and Sarah
Titensor, a husband and wife of sterling qualities, talented and
blessed with many accomplishments, the type of individuals needed
to help settle the untamed wilderness.

Thomas was born in Manchester,  England on October 27,  1829,  the
son of Edward Titensor and Mary Rogerson Titensor.  He heard the
gospel at the age of seventeen and was baptized on Christmas eve
of 1848.  He labored with the missionaries in the Manchester
Branch.  He was also a Sunday School teacher there for a number
of years.
When he was a young man. he learned the trade of a machinist. In
1854,  as recorded in the Marriage Register, he was an "Iron:
Turner and Fitter" and his father,  Edward, is shown as an "Iron
Moulder".  Thomas later became a master mechanic in the iron mill
where he worked for ten years.  The man for whom he worked gave
him permission to make a small turntable in his spare time.  He
entered it in a fair that was being held in  London and it took
the prize.  But,  being made on company time,  the boss took out
the patent on it.  It turned out to be a very important
invention.  The turntable which he invented (but was never
credited with) is the same as those used today by all the
railroads.
Thomas married Sarah Robbins on April 1,  1854.  Sarah had been
born on August 17,  1829,  the daughter of George Robbins and
Susannah Sutton.  In the Marriage Register,  George Robbins is
shown as a "Fustian Cutter".  (Fustian is a strong cotton and
linen fabric.)  During Sarah's early childhood, she belonged to
the Methodist Church.  She had a lovely alto voice and sang with
the Manchester Choir.  The first time she heard the Mormon Elders
preach the gospel, she was very much impressed and knew in her
heart that they were teaching the true gospel of Christ.  Very
soon thereafter, on October 22,  1848,  she was baptized a member
of the church.
At the time of their marriage,  Thomas and Sarah were both 24
years old.  The Marriage Register lists Thomas as a "Bachelor"
and Sarah as a "Spinster".  Four of their eight children were
born in Manchester: Susannah,  George Franklin,  Mary Ellen and
Sarah.  Their son George, however, died in Manchester at the age
of two.
When Thomas told his boss that he was going to America to join
with the main body of the members of his Latter Day Saint church.
his boss offered to take him into partnership with him if he
would stay.  But Thomas refused, saying that he had made up his
mind to go to Utah.  His boss said. "Well. you are a dern fool or
else there is something to your religion."  A short time before
Thomas' death, this man came to him in a dream.
Sarah's parents were very concerned when Thomas and Sarah
announced that they were planning to leave England and go to Salt
Lake City.  Two of their children had already died on their
journey to Utah.  Alice, one of Sarah's sister had given birth to
twin boys while crossing the ocean.  One of the twins was named
George, after his grandfather Robbins,  and the other was named
Marshfield,  after the captain of the ship.  The twins were
premature: they died and were buried at sea.  The mother died
while crossing the plains and was buried without a coffin.
One of Sarah's brothers. George, after joining the church, had
labored with John Taylor as a missionary in Lancashire,  England.
Brother Taylor sent him to America to join the Saints in Utah and
to preach the gospel as he went.  He got as far as St. Louis
where he became ill and died of cholera.

But despite all this,  Sarah's father, her mother and her sister
Ellen did everything they could to assist Sarah in her prepara-
tions for the long trip.  They went to Liverpool with Thomas and
Sarah and their three girls to see them board the sailing vessel
named Underwriter. They waited there till the ship set sail the
following morning, April 17,  1861.  It being Sunday, the ship
didn't go far out to sea. but stopped to observe the Sabbath day.
So Sarah's father, mother and sister hired a boat to take them
out to the ship to spend the day and attend the meeting.
President George Q. Cannon spoke to the Saints on board the ship.
After the meeting, Sarah's father said that. if Thomas and Sarah
would live up to the instructions of President Cannon, he knew
that all would be well with them on their journey.
It took them six weeks to cross the Atlantic and  during that
time they experienced several severe storms.  Sarah was very ill
for most of the crossing.  Whenever she went on deck. Thomas
carried her in his arms like a little child.  She was too weak to
stand alone.
They crossed the plains in the Captain Eldridge Company and
arrived in Salt Lake City in October 1861.  Since they had no
relatives in the area. they were taken to what was called
Immigration Square.  They stayed there only a few weeks before
being called to locate in Cache Valley.

hey settled first in Richmond,  Utah,  which was then only a small
fort of about twenty houses built close together as protection
from the Indians.  Sarah's brother-in-law, John Allsop,  invited
them to come and live with his family until Thomas could build a
house.  Thomas succeeded in getting a one-room log cabin built
before winter set in.  Like the rest of the houses there at that
time, it had a dirt roof and the rain could easily seep in.   It
had a wooden floor, a fireplace and one small window.
On those nights that Thomas served as guard on the watch for
Indians,  Sarah would sit up all night: she was afraid to go to
sleep when he was away.
The baby. Sarah, died that Spring of what was then called black
canker.  The night she died was so cold her mother held her by
the light and warmth of the crude fireplace until she passed
away.  There were no stores closer than Salt Lake City where
material could be obtained for making burial clothes, so she was
dressed in some of her old clothes.  She was the second person to
be buried in the Richmond Cemetery.
Thomas operated a blacksmith shop and a small farm in Richmond.
In November, Thomas and Sarah journeyed to Salt Lake to have
their marriage sealed in the Endowment House for time and all
eternity.
Generally, the Mormon settlers tried to get along with the
Indians; peaceful relations were important to them because of
their intent to be permanent residents in these valleys.
Richmond Ward records were kept of contributions to the Indians.
and the members seem to have been as faithful in this as they
were in the paying of tithes.
One of the more important bands of Indians in the area was under
the leadership of Pocatello,  a Bannock Creek Shoshone.  For
several years, this group had been actively hostile in an area
from the Great Salt Lake to the Snake River.  In January 1863.
federal soldiers, under the leadership of Col. Patrick Connor
battled this tribe and were responsible for the massacre of
Shoshone men, women and children at the Bear River in Utah.
After the next baby, Thomas Edward, was born,  Thomas and Sarah
decided to move out of the fort.  The family had to live in a
temporary shanty while Thomas moved their house to the new
location.
It was during this time that trouble broke out with Indians in
Franklin. Idaho.  It is said that someone in Franklin gave liquor
to an Indian, that the Indian then tried to run his horse over a
woman and was shot by a white fellow. All the able-bodied men
were called to go help settle the difficulty and the old men were
left to guard the women and children.   As night came on, Sarah
became so nervous with her three little children in the open
shanty, she took them to a neighbors home to spend the night.
The oldest daughter, Susannah, recalls that "many times in those
days we had no bread.  Mother boiled the wheat and we would eat
it with milk.   I have seen her eyes fill with tears when she had
no food to give us, but I never heard her complain.  When asked
if she would like to go back to her native land, her reply was,
'No, I came here for the gospel sake, and I am willing to work
and wait.'"
"My mother had to spin, knit, sew and braid straw hats.  When the
grasshoppers came and were eating our crops, she would take Mary
Ellen and me about two miles to the field.  We would walk up and
down through the wheat, waving rags to keep the grasshoppers on
the move so they wouldn't eat the grain.  We were indeed tired at
the end of the day."
Their log home was improved and enlarged and three more children
were born to them there: John William, Fredrick Robbins, and
Ruben.  Ruben also died in infancy.

Shortly after joining the church in England, one of the people
that Thomas baptized was a young girl of eight named Elizabeth
Sarah Bradbury.  Eighteen years later, Elizabeth also came to
Utah and lived in Salt Lake City.  In August of 1867, she was
sealed to Thomas and, as his second wife,  gave him six more
children: Sarah Ann, Sophia, Joseph, Charles, Elizabeth and Rose.
Charles and Elizabeth died as infants.  It is said that Thomas
had a great gift of healing and was called upon often, frequently
late at night, to administer to a sick neighbor.          
At one time, he went to Salt Lake to work for President Bright
Young in his woolen mill. As Christmas time approached, he felt
that he must go home to spend the day with his family.  It was a
hundred miles and the only way he had of getting there was to
walk.  While going through Sardine Canyon, two young men overtook
him.  It was a very cold night.  They built a fire and Thomas
stayed all night.  He tried to persuade the other two to stay
until morning but, as it was only a few miles to Wellsville town,
they decided to go on.  When Thomas arrived in Wellsville the
next morning, he learned that the two young men had frozen to
death just a short distance from town.
In 1872, Thomas took his families to Logan, Utah, where he worked
as a master mechanic in the railroad shops.  And then, two years
later, Thomas and Sarah and Elizabeth took up a quarter section
of land (a quarter of a square mile) three miles north on High
Creek, a rushing mountain stream.  This settlement was later
called Coveville but, because of confusion with a town called
Collie, it was renamed Cove.   It is just south of the Idaho
border, with Richmond, Utah on the south,  Franklin Idaho on the
north, Lewiston,  Utah on the west and the Wasatch Mountains on the
east.  Here Thomas erected a substantial frame house.  Besides
farming, he again operated a blacksmith shop.  And he planted a
large, wonderful orchard that was a magic spot for all the
children of the place.
In the early days of the sugar beet industry in Utah,  Thomas
invented a beet topper.  He also helped to build the first saw
mill,  the first grist mill and the first threshing machine in
Cache Valley.
To help earn some extra money, Thomas once went up to Camas, 
Idaho near the Montana line to use his blacksmithing skills
repairing the wagons and shoeing the horses of freighters hauling
ore to the railroad from the mines near Montana.  His sixteen
year old son,  Fred,  came to Camas to work with him and learn some
of his skills.
Sarah was Relief Society President in the Cove Ward for many
years.  When her health no longer permitted her to serve in this
capacity, Thomas' other wife. Elizabeth, took her place as
President.
When their son, Fred,  married, he and his wife,  Ellen,  lived in
two rooms in the rear of his parent's home in Cove.  Later,  Fred
took over the farm and Thomas again went to work for the Utah
Northern Railroad as a master mechanic, this time in their shops
in Pocatello,  Idaho.  He took his son Joseph (Jody) with him to
work as an apprentice machinist, a trade that Joseph followed
until his retirement in Ogden,  Utah.
In 1895,  Sarah was injured in a fall from a moving train.  She
was on her way to Pocatello to visit Thomas.  The fall caused a
stroke from which she never recovered.
In their older years. Thomas and Sarah lived in their frame house
in Cove with their son Fred and his family.  And they died there,
Sarah in, 1903 and Thomas in 1907.  They are both buried in the
little cemetery in Richmond at the foot of the Wasatch Mountains.
Here,  in years gone by,  one could have heard the ring of his
hammer and the click of steel on the anvil in his blacksmith
shop.
He was a handsome, quiet, scholarly man with a twinkle in his
brown eyes.  He loved books, trees and flowers.  He tilled the
land,  chiseled wood,  built houses, worked with steel and iron,
and helped to keep the wheels of industry and the railroad going.
He loved and married two good women and held their love and
devotion.  He had fourteen children and now stands at the head of
a numerous posterity.  He left his mark on the land he helped to
colonize and on the hearts of those who knew and loved him.
Thomas Titensor ... inventor, farmer, machinist, blacksmith...
and Sarah Robbins Titensor ... valiant wife and mother... two who
worked with their hands, heads and hearts ... pioneers,
colonizers and true Latter Day Saints ... we salute you.

This account is the meshing of several accounts, one by Susannah Titensor
(a daughter of Thomas and Sarah Titensor), one by Lavinia Horsely (a niece
of Thomas and Sarah), one by Sarah Titensor Alien (a granddaughter) and the
others of unknown authorship.   This combining of the various accounts was
undertaken by Steven Jamison (a great grandson).


---




RECOLLECTIONS BY LOUIS W. LARSEN



(Son of Susanne Titensor and J. C. Larsen Sr, )

They've asked me to write a little rhyme
to celebrate this day.  If it turns out to
be a corny piece, it wasn't for lack of time,
but the lack of what to say.
Thomas Titensor, I recall.  And a mighty
man was he.  I can hear the clang of his anvil
now - and it wasn't under a chestnut tree.
It was in a shack at the foot of a hill
where I watched his bellows blow - and I was
a nuisance of a kid he always had in tow,
Not only me, but a band of kids-sister,
brother and a cousin-but he was a kindly,
twinkling man who could tolerate a dozen,
He loved the kids- and I recall when he'd
come from Pocatello, he'd give us each a
shining coin.  He was kind of a Santa Caus
fellow.
He loved his garden, and I've heard tell, he'd
loiter there for hours.  When grandma would say,
"Thomas bring some corn," he'd likely come back
with a handful of flowers.
Well,  that was the kind of a man he was- and
the kind of man to be.  True greatness is in the
little things, as far as I can see.
And we honor those loyal wives of his, as fine
as ever breathed a breath- who lived in love
and unison- Sarah and Elizabeth.
There was Uncle Will, sometimes called "King"
a famous hunter he.  And Uncle Tom, a silent man,
but sturdy as a pinion tree.
There were our Aunt Ella and Aunt Susanne of
blessed memory- and Aunt Sophie and Sarah Ann
and one Rose blooming on the tree.
The living sons are Uncle Fred, who made the
old home his mission.  And Jody, in his father's
steps who kept alive the shop tradition.
And it wouldn't be right to call the roll
of the older generation, if we failed to call
John Pimblett's name- in silent veneration,

It's a long way back to the old days, and they'll
never come again.  So it's good to meet and remember
some things that happened then.
Some of us were on the scene at a very early date.
Me, for example- born with hair- now look at my
shining pate !
Rube was there, and small enough that I could
push him around.  But now he just defies me and
stubbornly stands his ground.
And there was a boy named Philemon- I recall it,
old as I am- how he and I would sometimes steal
his Grandma Goslin's jam.
And I remember a handsome guy who used to love
to fish.  He could hook him a mess where no fish
were, while I would stand and gawk and wish,
(That was Jody)
Some days I'd work with Uncle Fred, pitching hay
or stacking straw.  And that was a wonderful holiday,
though I turned my wages over to Pa.
And who remembers the school on the hill where
I went when I was a rookie- where I got three stripes
instead of a star, on the days I didn't play hookey.
And do you remember the meeting house where we sat
all afternoon- and while the brethren preached we
prayed- prayed it would soon end- soon!
Who recalls where the post-office was? Yes, the
Bradbury home down west of the track.  If you got
some mail- and you seldom did- it was three miles
there and four miles back,
I wish I knew more of the Star Valley tribe, that
left the old ancestral place to pioneer all over
again and propagate a chosen race.
I don't know their history, but you can bet those
Titensor men and maids have lived a successful kind
of life- well spiced with colorful escapades.
But I can say this: It's good to see you here on
reunion day.  And I hope there'll be many happy
returns before we've all turned grim and gray !


---
1880 CENSUS
NAME
RELATION
MARITAL STATUS
GENDER
RACE
AGE
BIRTHPLACE
OCCUPATION
FATHER'S BIRTHPLACE
MOTHER'S BIRTHPLACE
Thomas TIDENSON
Self
M
Male
W
50
ENG
Blacksmith
ENG
ENG
Sarah TIDENSON
Wife
M
Female
W
50
ENG
Keeping House
ENG
ENG
Mary E. TIDENSON
Dau
S
Female
W
21
ENG
At Home
ENG
ENG
Thomas E. TIDENSON
Son
S
Male
W
16
Utah
Laborer
ENG
ENG
John W. TIDENSON
Son
S
Male
W
14
Utah
Laborer
ENG
ENG
Frederick R. TIDENSON
Son
S
Male
W
11
Utah
ENG
ENG
Sarah Ann TIDENSON
Dau
S
Female
W
11
Utah
ENG
ENG
Sophia TIDENSON
Dau
S
Female
W
10
Utah
ENG
ENG
Joseph TIDENSON
Son
S
Male
W
7
Utah
ENG
ENG
Rose TIDENSON
Dau
S
Female
W
9M
Utah
ENG
ENG
John PIMBLET
Other
S
Male
W
17
ENG
Laborer
ENG
ENG
Census Place: Richmond, Cache, Utah
Family History Library Film: 1255336
NA Film Numbr: T9-1336
Page Number: 245A

---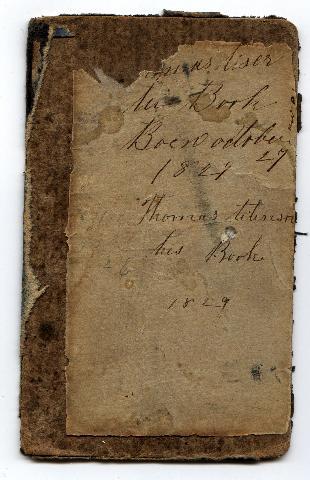 Inside Cover of Bible (showing spelling Thomas Tiser and Thomas Titensor
---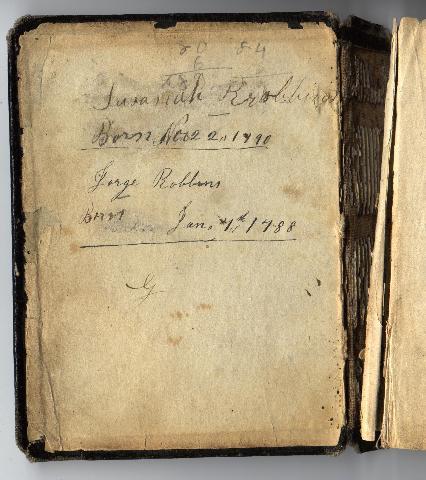 Bible Page
---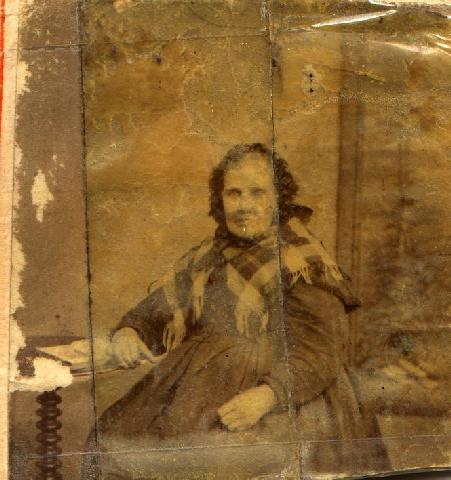 Susannah Sutton Robbins
---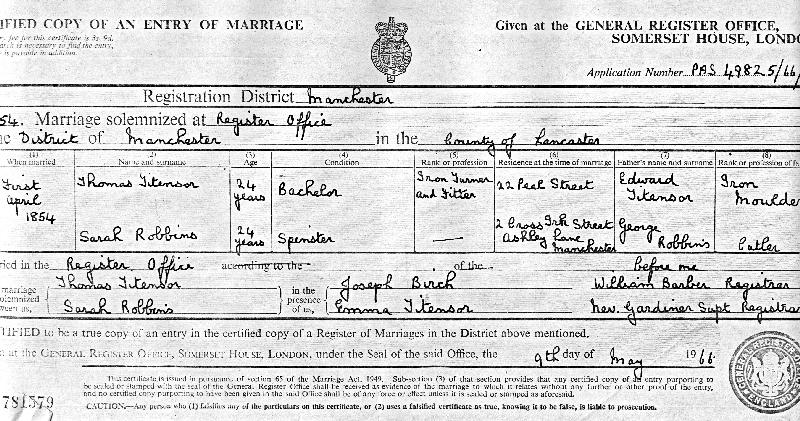 Marriage Certificate of Thomas Edward Titensor and Sarah Robbins
---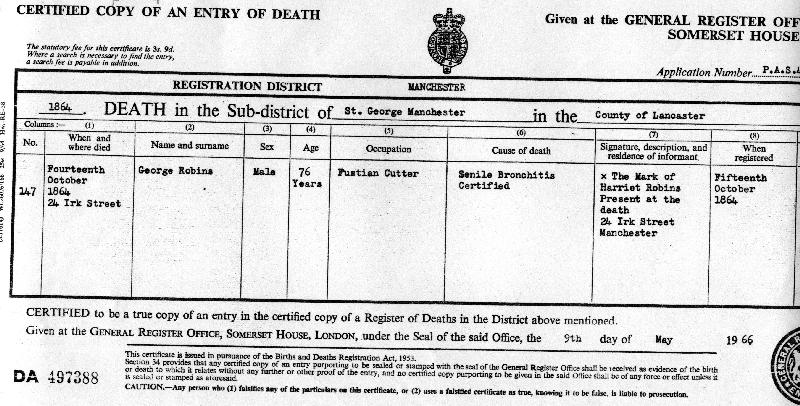 Death Certificate of George Robbins
---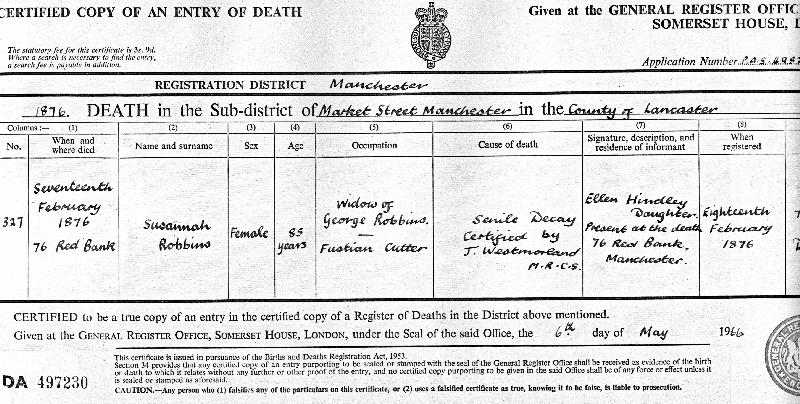 Death Certificate of Susannah Sutton Robbins
---
LINKS
RETURN TO LARSEN HOME PAGE:
Go To Larsen History Page:
Go To History Of Susannah Titensor Larsen:
Go To History Of Mary Ellen Titensor Larsen:
Go To History Of Fredrick Titensor:
Titensor Research by Jim Petty:
Titensor Research by Shirley Gardner:
TITTENSOR One-Name Study Home Page:
Go To Cemetery Page:
Go To Pioneer Page (Eldridge Company Journal):

---
Dennis Larsen
utahdlarsen@sisna.com
10890 Bohm Place
Sandy, UT 84094
United States
---