FLAVEL FAMILY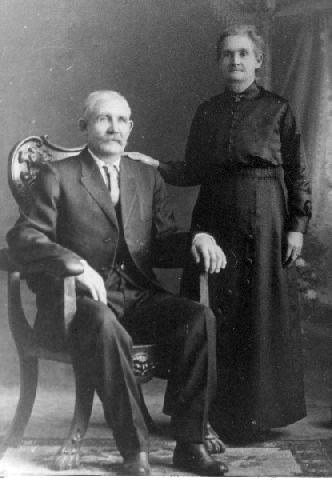 William and Rosetta Christmas Flavel
This page contains information on the FLAVEL FAMILY; including the following surnames:
FLAVEL (Ireland)
JONES (Wales)
CHRISTMAS (Wales)
ROACH (Wales)

as well as the ancestors and descendents of Mary Elizabeth Flavel(born 1887-died 1969).
An ahnentafel chart (14 generations) is provided for quick reference. [NOTE: To return to 
this page from the Pedigree Database, click on the URL at the bottom of the "main page".]

See the list of links below for additional information.

---
LINKS
Ahnentafel Chart for Mary Elizabeth Flavel: (14 generations)
Cemeteries: (Richfield, Idaho & Spanish Fork, Utah)
Converts: (Church of Jesus Christ of Latter-day Saints)
Descendents of Flavel, Jones, Christmas, Roach: (6 generations)
GEDCOM file : (down load a GEDCOM File from ancestry.com)
History Index
Immigrants
Locality Sites
Maps
Military Page
Missionaries
Pedigree Database
Photo Index
Pioneers
Property & Land
Related Family Sites
Research Page: (primarily Thomas Flavel)
RETURN TO HOME PAGE:

---
---
Dennis Larsen
utahdlarsen@sisna.com
10890 Bohm Place
Sandy, UT 84094
United States
---

This page has been visited
times.